Overview
---
Comfortable
Tour
Budget
Tour ("Lazy" Camping)
Group
Price p.p.
Price p.p.
1 person
US$ 1,690
US$ 1,610
2 persons
US$ 1,015
US$ 970
3 persons
US$ 825
US$ 785
4 persons
US$ 735
US$ 690
5 persons
US$ 680
US$ 635
6 persons
US$ 640
US$ 600
7 persons
US$ 615
US$ 570
Single occupancy pays US$ 120/90 more for single supplement in a room.
---
Flights not included.
First and last night in Uganda not included.
Extra night in our Airport Guesthouse
Double US$ 70 /Single US$ 60
(including BB and airport transfer).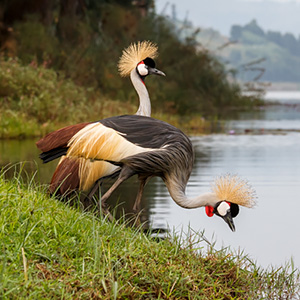 5 Days Gorillas & Chimps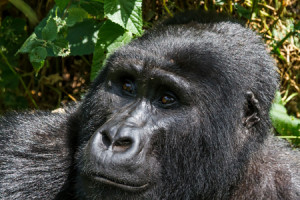 Gorilla tracking in Bwindi and chimp walking in Kibale. Meet our closest relatives in one trip. Once in a lifetime encounters with mountain gorillas and chimpanzees in the afromontane and tropical rainforests of Uganda.
---
What has this trip to offer?
Staying in the beautiful accommodations of Nature Lodges.
You can choose "Lazy" camping (the tent is ready and fully equipped, showers and toilets are shared) or a room in the Lodges.
All accommodation is on BB basis.
All transport is in 4WD Landcruisers with a pop-up roof and for everybody a comfortable window seat.
Guaranteed visit to world famous mountain gorillas (not included in the price, this is USD $600).
Chimp tracking in Kibale National Park (include in the price).